Interior designing can make a significant improvement in how your place looks. Choosing the right designs and materials for your home is a very important step in interior designing, it's been a while now that people are using tiles more than before. So, you need to make sure to get the best tiles for interior walls. 
Earlier, tiles were only confined to the bathroom and sometimes the kitchen but now people have been demanding tiles for their bedrooms and other spaces as well. So the question arises, what are the best tiles for interior walls? Stay tuned to find out. 
Click to read our article: Tips for choosing bathroom tiles
Best Tiles For Interior Walls 
1. Ceramic Tiles
Ceramic tiles are the best for wet spaces such as bathrooms as they are waterproof and this is what makes them suitable for wet places. You can have them installed in your kitchen as well.
Ceramic tiles do not react to any kind of chemical and will not get damaged if they come in contact with any kind of harmful substance. 
There is nothing in this world that just has advantages or just has disadvantages, you just have to see which one outweighs the other. Ceramic tiles also have their drawbacks. Let's start with the advantages first. 
Benefits Of Ceramic Tiles 
Ceramic tiles are waterproof

They do not stain. 

Maintenance of ceramic tiles is easy
Drawbacks Of Ceramic Tiles 
Ceramic tiles don't receive heat effectively and are often cold. 

It is not an easy task to install ceramic tiles

They are heavy.
2. Porcelain Tiles
Porcelain tiles are tough and even surface that is perfect for preventing water and moisture. Porcelain tiles can be used in wet spaces effectively. The porcelain tiles are separate for walls and flooring, there are other types as well but these two are the most common. 
Porcelain tiles are one of the best tiles but they also have their drawbacks. Let's list the pros and cons of porcelain tiles to help you make a decision. 
Benefits Of Porcelain Tiles
Porcelain tiles are easy to clean

There are fewer chances of porcelain tiles cracking. 

They require less maintenance
Drawbacks Of Porcelain Tiles
Porcelain tiles are costly

They can be slippery

Porcelain tiles are complex to install
If you are interested, you can click to read: Porcelain tiles vs ceramic tiles
3. Glass Tiles
A glass tile is a tile made out of glass. Glass tiles are generally coloured by coating the backside of the tile. They can be used commercially as well as for interior design. They also add a certain class to your residence. 
There are quite a few advantages to glass tiles, they are sturdy and easy to clean. However, they also have some disadvantages. Let's discuss the advantages and disadvantages of glass tiles further. 
Benefits Of Glass Tiles 
Glass tiles are long-lasting

They are beautiful and enhance the beauty of your home. 

Glass tiles are really easy to clean
Drawbacks Of Glass Tiles 
Glass tiles are pricey and out of budget for a lot of people.

Scratches are possible. 

You need to hire a professional for the installation. DIY will not be an option for glass tiles.
4. Stone Tiles
Stone tiles are made by nature. Marble is the most commonly used stone for interior wall tiles. They are a great option for the interior walls of your residence as they provide a calm ambience and make your place look aesthetic.  
Stone walls come with their advantages and disadvantages. It is a great option but it all depends on your needs. I'll list the advantages and disadvantages of stone walls to make it easier for you to choose. 
Benefits Of Stone Tiles
Stone walls are fairly easy to clean.

It brings forth a calm aura.

Stone walls are fairly substantial. 
Drawbacks Of Stone Tiles
Stone walls can be costly.

They are likely to get water damaged.

Some stones are delicate and are susceptible to damage. 
Factors To Consider When Choosing Wall Tiles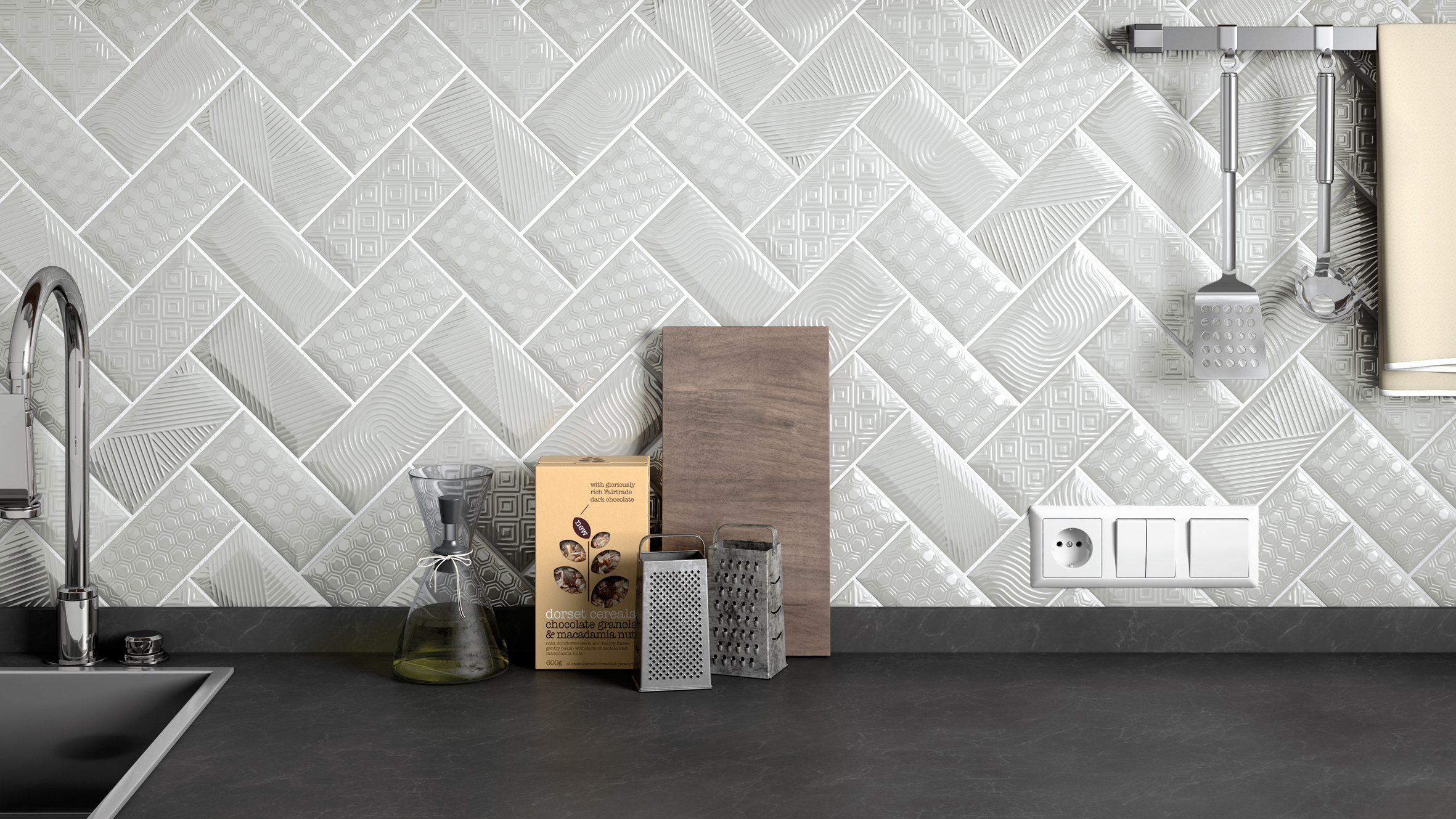 Wall tiles are very efficient and play a big role in improving the quality and beauty of your home. They also can add to the value of your home. There are several things to consider when you choose wall tiles for example the size, the durability and the configuration of your walls. Let's discuss them all further. 
1. Compatibility 
Making sure the tiles you select are compatible with the overall theme of your house is step one. If the tiles are not consistent with the appearance of your place, then it can end up looking like a huge blunder.
Tiles play a very important role in the look of your place. Make sure the tiles you get are consistent with your home and they will enhance the beauty of your place.
2. Purpose Of The Tiles 
There are a lot of different kinds of tiles to choose from. They all come with their attributes. You should consider what you need the tile for and if the specific tile fits your needs.
For example, floor tiles are the way to go if you want them installed in your kitchen or bathroom because they are water-resistant and they are also pretty affordable. Thinking this way will help you make a decision better suited to your needs. 
3. Layout Of The Wall 
When you are getting tiles for your wall, you need to evaluate the size and layout of the wall. It is because you should be able to get as many adequate pieces of the tile as possible. After all, the cuts in between tiles may look unnatural and unappealing. 
Design Inspirations And Trends 
As we have already discussed, tiles have a huge impact on the interior design of your home. Your selected tiles should be able to hold up against certain conditions, like the tiles in your kitchen and washroom should be water resistant.
This makes them easier to maintain. Tiles have great capability, the right tiles can give your place the best look imaginable and create your desired atmosphere. 
For designs, there are timeless classics like subway tiles and chevron patterns. These tiles will add a certain level of elegance to your home that nothing else will.
If you are thinking of something a bit modern then tiles with a monochromatic color scheme and clean lines will be more up your alley.
These designs can represent simplicity and minimalism. Some people prefer murals or hand-painted designs. You can mix and match as well, just make sure that all the designs are consistent with each other. 
Maintenance And Care Tips 
I believe many people will have this question: "How do i maintain my tiles?" In fact, maintaining wall tiles is not difficult at all. All types of tile require different maintenance, but the easiest way to clean wall tile is to wipe the tile with a damp rag.
If that doesn't work, then you can use one of the solutions specifically designed for cleaning tiles.
You should avoid using all harsh substances like steel brush at all costs. Using harsh materials can scratch your tiles and damage them. Also, make sure to wipe your tiles when you use them around water. 
When you are buying the tiles, you should talk to the supplier about the maintenance of the tiles and how you should clean them. This is the best option of all as the supplier knows better and can guide you properly. 
Conclusion 
To conclude, choosing the best tiles for interior walls is a complex task but with the right guidance, it does not have to be that hard. You need to keep in mind the specific factors mentioned above in the article and you will be able to get the best tiles for interior walls. 
We recommend you speak with a professional and make them aware of your requirements and you will be able to get the right guidance for your tiles.
We hope this article helped you in the process of interior designing. There are so many different kinds of tiles, it all comes down to your needs which makes a specific tile perfect. 
FAQ's 
1. What Are The Best Tiles For Interior Walls? 
All tiles have their advantages and disadvantages, it all comes down to your specific needs and wants that make a specific tile the best. However, some of the most commonly used tiles are porcelain tiles, ceramic tiles, glass tiles and stone tiles. 
2. What Tile Is The Popular Choice For Interior Walls? 
One of the most popular choices for interior walls is ceramic tiles. They are durable and very affordable as well. The maintenance of these tiles is pretty easy and they also have a wide range of designs. These are the reasons why ceramic tiles are in so much demand. 
3. What Are The Factors For Choosing The Right Tiles For Interior Walls? 
The factors which you need to consider when you are buying tiles for interior walls are the purpose, the size and the style of your place. These factors are important to keep in mind when you buy tiles because without them in mind, you might end up buying tiles that are not suitable for you. 
If you have other questions, you can click here to contact us at George Ceramics, and we will have professional staff to answer your questions.